Walks: nature, culture and gastronomy
(6 days/7 nights)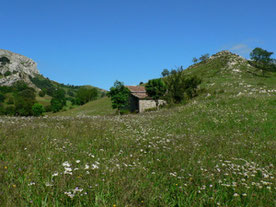 From Arenas de Cabrales, situated at the foot of the northern face of the central massif, we explore the different landscapes of the Picos de Europa with six daily walks. By forest paths and tracks, our footsteps take us from deep gorges to snow and bare rock, crossing ancient woods and traditional "majadas".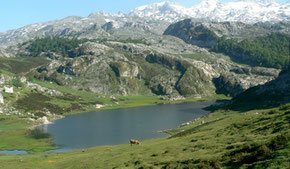 The walks are relatively gentle and normally present little difficulty. We enjoy walking in natural wilderness in the company of vultures and chamois. We get to know dramatic landscapes, amongst rich and varied natural environments, delicious gastronomy and deep traditions.
Daily programme
Day 1 - Sunday:    Meet in Arenas de Cabrales at 19.30. Register at the hotel. Briefing with welcome drink. Information on the area and the week's activities. Dinner.
Day 2 - Monday:   The first day's walk is in Nava. Under the gaze of vultures and alpine choughs, we walk between traditional "majadas" and hay fields carpeted with wild flowers.  
Ascent: 2150 feet / Descent: 2150 feet / Duration: +/-5 hrs
Day 3 - Tuesday:   After a short car journey (12 miles), we head towards the eastern part of the massif. At close to 6500 feet,  the chamois graze amongst loose rocks beside abandoned mine shafts, within a high crown of peaks highlighted by the blue sky beyond.
Ascent: 2150 feet / Descent: 2150 feet / Duration: +/- 6.5 hrs
Day 4 - Wednesday:  Another short car journey (7.5 miles) takes us to the day's starting point: the dramatic and wild river Casaño gorge. Passing through ancient Beech forests, we climb the Pandescura mountain, easily broached, the peak affords a fabulous panoramic view of the crests of the Cornion massif.
Ascent: 2150 feet / Descent: 2500 feet / Duration: +/- 6.5 hrs
Day 5 - Thursday: Today is dedicated to climbing Peña Main. By field and forest, we arrive at the natural vantage point with a complete view of the central massif.
Ascent: 2500 feet / Descent : 2800 feet / Duration:6.5 hrs
Day 6 - Friday: In the western part of the Picos, we spend the day by the lakes of Covadonga and the Vega de Comeya, a rich and biodiverse wetland.
Ascent: 1500 feet / Descent: 800 feet / Duration : 5.5 hrs
Day 7 - Saturday: The last day's walk takes us past the Vierro "majada", close to the nest-sites of Golden Eagles. Through dense Beech woods, we pass by the natural habitat of Black Woodpeckers and Ravens, accompanied by the sound of cristal clear river torrents of the deep forest.
Ascent: 1650 feet / Descent: 1650 feet / Duration: 5.5 hrs
Day 8 - Sunday: Final breakfast
Please note:
This programme is indicative. The guide may modify itinerary depending on weather conditions or for reasons of safety.
Dates, prices y availability for 2020
 

2020  dates


  


    Price   

      Reserved 

   Options   

Availability 


XXXXXXX

 
 
 
 
 
 
 
 
 
     
 
 
 
 
      
 
 

 

Trips are confirmed with a minimum of 4 reservations

Practical information
Accommodation: In Arenas de Cabrales, family run and comfortable hotel with double bedrooms and private bathrooms (single use carries a 20% supplement)
Fitness level: Easy. This activity is suitable for all levels, including accompanied children over 12 years old.
Meeting point: Arenas de Cabrales, Sunday at 19.30 hrs. The activity finishes the following Sunday after breakfast.
Size of group: 4 to 12 people.
Price: The prices are per person and include full board guide services and all activities. Drinks, insurance and transport to the daily starting point and/or from finishing points are not included (taxi or own car).
Necessary equipment:
Warm clothes (fleece or similar)
Rain jacket or rain poncho
Hat, sun cream, sun glasses